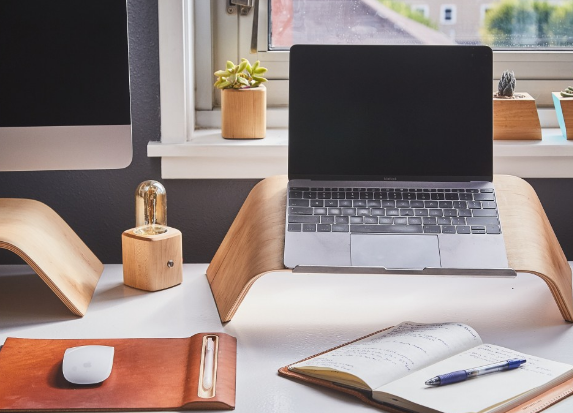 As more and more employees transition into a hybrid work schedule, it is important to consider the benefits of the time spent working from home. Research has indicated that working from home can actually improve employee productivity, while simultaneously boosting employee morale and reducing the operating costs of their employer. Whether you still permanently work from home or have returned to the office for a few days of the week, there are a number of considerations that must be met in order to enable remote work and strike a balance between your work and home life.
In order to successfully work from home, you'll need to be fully equipped. Most importantly, you'll need to be sure you have a stable internet connection with a high enough data cap. You'll also need the appropriate hardware that will likely be supplied by your employer. A desktop computer and monitor in some cases, or a laptop in others in order to fulfill your work responsibilities is common. Less common peripherals, but still often essential while at the office, will likely not be provided. Printers, phones, copiers, etc., are somewhat common in the home, so most remote workers are in luck. As long as you have the hardware and space necessary to video conference in to remote meetings, working from home is very accessible.
What most remote employees tend to struggle with is the ability to separate work and home responsibilities throughout the work day. It can be very tempting to divert your attention to home based chores during the day. Why not get an early start on cooking dinner? Or you could always throw in a load of laundry, right? These types of distractions are cited as the most difficult aspects of working from home for remote employees.
The infographic featured with this post, How to Create a Home Office That Improves Work/Life Balance, highlights a few strategies that should help you maintain your focus while working from your home office. Living two separate lives in one environment is often challenging, but it can be accomplished with a bit of discipline.
Having a larger home makes it easier to establish an office space in a vacant room just for you, but having your own established space is possible even in a smaller home or an apartment. For those operating in a smaller space, choose a space that is most free from the chaos that is the rest of the home. Whether that be a room away from the TV, or away from your children, find a place that's without major distractions and make it your own. In the coming summer months, you could even consider using the outdoors as your workspace. Most importantly, though, if you're working remotely you should treat every day as though you're in the office. Try to mentally separate yourself from home and just attend to your work responsibilities until the work day is over and you'll find yourself with a healthy work and life balance.
Sara Scimeca is Marketing Coordinator for Synergy Builders, a stress-free remodeling company. She has two years of experience in the industry and manages Synergy's marketing plans including creation of content for newsletters, brochures, advertisements, videos and more.